One More Foxtrot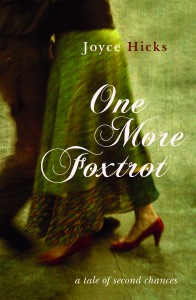 The year after octogenarian Betty Miles' exit from senior living as told in Hicks' Escape from Assisted Living, she's staying in Chicago. Her daughter Sharon D'Angelo is busy with Sharon's Desserts, her new shop in Elkhart, Indiana, funded by a legacy from her father. This equanimity between Betty and Sharon may be short-lived after a stranger makes an astonishing claim. Will mother and daughter work through this mystery together? Of course not. They have protected each other from upsetting truths their entire lives.
With her hands full—catering clients making moves on her husband Vince, her mother-in-law meddling in the desserts, and a visitor sleeping over—Sharon encourages her mother to stay away. Time isn't right for revelations of the goings-on in Elkhart that have propelled Sharon's Desserts from the red to the black.
Betty's happy in her city life with friend Eleanor. She's speed dating, making new friends, and reconnecting with an old one. She's also sleuthing family history, but her suspicions she keeps from Sharon because a good wife and mother should not tarnish a reputation.
When all the women meet by accident in Chicago, results of past transgressions come to light. They must ask what does it take to forgive, or move on, or rekindle romance? And do second chances offer just deserts? The Miles and D'Angelo experience with rewritten family history offers answers.
Paperback and Kindle, Amazon, Barnes & Noble, or your bookseller.
PLACED FIRST in the Books & Creative Writing category of the Woman's Press Club of Indiana's Communications Contest. Contest.
REVIEWS
"A touching story about family bonds, trusting in the power of love, and moving on. Betty is a woman to be admired, full of spunk and most of all, forgiveness."            ~Kate Collins, NYT best-selling mystery author
"Finally, someone is writing about aging with wit and sincerity and not a hint of whine or regret. Whether you've read Joyce Hicks' Escape from Assisted Living, this sequel is stand-alone good reading, funny, wry and unapologetically hopeful."
~Mary Dean Cason, What Solomon Saw and Other Stories
"Overall, the plot twists are skillfully placed and effectively threaten the tenderness that the author cultivates between Sharon and Betty. The writing is clean and breezy throughout; Hicks tackles weighty themes, including death, deceit, jealousy, and regret, but she does so with a sense of reserve and a cheerful sense of humor—an approach that makes for an indulgent reading experience.
"A gentle family drama that's as pleasant as watching an episode of Gilmore Girls or knitting in bed." ~Kirkus Reviews Full review at Kirkus Reviews.
"In a pop culture media world devoted to sex, violence, and instant gratification, Joyce Hicks writes quiet, charming stories about an elderly Indiana woman and her family that delight and amuse us, and remind us of the best moments in our own lives.
"In One More Foxtrot, Betty Miles is spreading her wings as a septuagenarian widow in Chicago while her daughter, Sharon D'Angelo, is back in Elkhart, Indiana, trying to launch her own bakery business and maintain solid relationships with her husband and in-laws. Mother and daughter share concerns about each other, and even some guilt about being apart, but they are both on paths of self-realization—Betty, exploring the worlds of art and culture that had been invisible to her during decades of life as a homemaker and mother, and Sharon, trying to make a career out of her great passion for baking.
"Life for both of them is a series of small conflicts that flare up and die and we settle into a pleasant, interesting story with a distinctive Midwestern pace and flavor. Then a young college student shows up at Sharon's bakery, claiming to be related to her, and sharing her passion for baking. From this point on, One More Foxtrot becomes a story about family secrets, as Betty tries to shield Sharon from the truth about an affair her late husband had, and Sharon contemplates telling her mother about her father's other family. The ensuing drama is engaging—sometimes gripping, sometimes fun, and always interesting—as Ms. Hicks takes us on a lovely ride through a modern Middle America that is as real as it is entertaining. . ."  ~Renee James, Windy City Reviews.      See full review
"Fans of the adventurous octogenarian Betty Miles will be glad to know that a sequel to Escape from Assisted Living has just been published.
"Titled One More Foxtrot, the story follows Betty as she returns to Chicago in her quest to resolve a family mystery. She is still processing the explosive information she found in her husband's safe deposit box after his death. There in Chicago, Betty talks it all over with her dear friend Eleanor. These pals take an active approach to senior life, exploring opera, speed dating, pedicures and more.
"Meanwhile, back in Elkhart, Betty's daughter Sharon has launched her dream business, an upscale dessert bakery and catering service. Out of the blue pops Olivia, a teenager with a wild claim. Olivia, or "Livy," has a knack for retail and comes up with a Mother's Day basket that puts the bakery on the map. Handsome Phil Krueger of the WBEQ South Bend wants to feature Sharon on his series, "Indiana Cooks."
"Author Joyce Burd Hicks has a gift for bringing us characters who love each other and who are irritated with each other at the same time. The phone conversations between Betty and daughter Sharon will make you laugh and wince and laugh again. Sharon's husband Vince is sweetly heroic as he supports the wife he loves, as well as his overbearing mother, Mary. When the situation calls for it, dueling mothers-in-law, Betty and Mary, stand by each other like rocks.
Perfect for book groups, the book is generous with enjoyable insights. For starters, everyone needs a friend like Eleanor. Also, some of the nicest surprises come from people you knew in high school. What may seem like "new age foolishness" can save the day. It is possible to understand something painful and to forgive. Most important, we should always look for that one more foxtrot. Regardless of stage of life, we should celebrate, fall in love, and dance.
"Author Joyce Burd Hicks grew up in Cortland, New York. She currently lives in northwest Indiana with her husband and her pets. Visit joycebhicks.com for links to her published stories. One More Foxtrot is her second novel. Escape from Assisted Living and the new sequel, One More Foxtrot, are both available at Phillips Library in Homer and from Amazon.com."  ~Lynn Olcott for The Cortland Standard